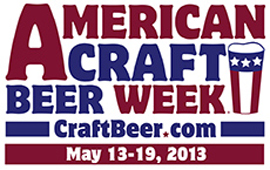 American Craft Beer Week May 13 - 19, 2013
American Craft Beer Week is the national celebration of America's small and independent craft brewers, their impact on American culture, and the love affair that craft beer enthusiasts have for their favorite American made craft beers. There are many events all around the country, listed on CraftBeer.com. Some local events: Tuesday May 14 World of Beer Kendall is hosting Sea Dog night. WOB Dadeland will be featuring beers from Widmer Brewing all night. Thursday May 16 Celebrate Dogfish Head beers and Craft Beer Week at several locations. The two WOB locations above both have special Dogfish Beer "Shark" nights. Miami's newest gastropub Barley & Swine, located in Downtown Dadeland, presents a 5 course beer dinner featuring unique, aged Dogfish beers. The beers will be paired with special dishes just for the occasion. Cost is $60. Call 305-678-8903 to reserve a spot. OTC Brickell is hosting an Ommegang tap takeover all night.
There are many events all around South Florida. A local distributor has a Facebook page with more listings.
Style of the Month
American Wheat Ale
American wheat ales are brewed with 30 to 75% wheat malts. The hoppiness is low to moderate. A low level of fruity esters exists but no clove or banana flavors that German Hefe- Weizens have. Many are unfiltered; the yeast adding a complex note to the flavor profile. Color is golden to light amber. Some people add a slice of lemon to the beer; others consider that an insult to the beer. Some good examples are: Boulder Beer's "Sweaty Betty" or North Coast's "Blue Star" Wheat. Locally the Titanic has a honey wheat ale on now. Enjoy a wheat ale after working outside on a hot summer day.
Nanatahala Brewing has been brewing for 3 years this month. In that 3 years the growth and change have been immense. Partners and brewers have come and gone, all the while building up the business and reputation. Bryson City is a great home; the tap room is a big Quonset hut just across from the Smokey Mountain Railway stop. The area has ;a great variety of outdoor activities available. Smokey Mountain national park is 2 miles away, rafting opportunities are all around and hiking trails abound. The beer is good too. They are brewing many different beers and barrel aging as well. Beer City USA (Asheville) is nearby and they are part of that culture. Sierra Nevada is building a brewery and the Nantahala guys have already brewed a collaboration beer with them. All the breweries in the area know and help each other. That is probably the best attribute of the craft beer culture; it is alive and well in western NC.I visited last October on Trail Magic Release day, and my review can be seen on my 2012 review page.